e-yantra Lab Details
The laboratory is designed as a scalable and sustainable approach that addresses infrastructure creation and teacher training - aimed to create an eco-system at the college to impart effective engineering education. The prime objective of the laboratory is to make available the learners a conducive platform to learn basic concepts in embedded systems and micro controller programming by the means of a robotic kit and accessories.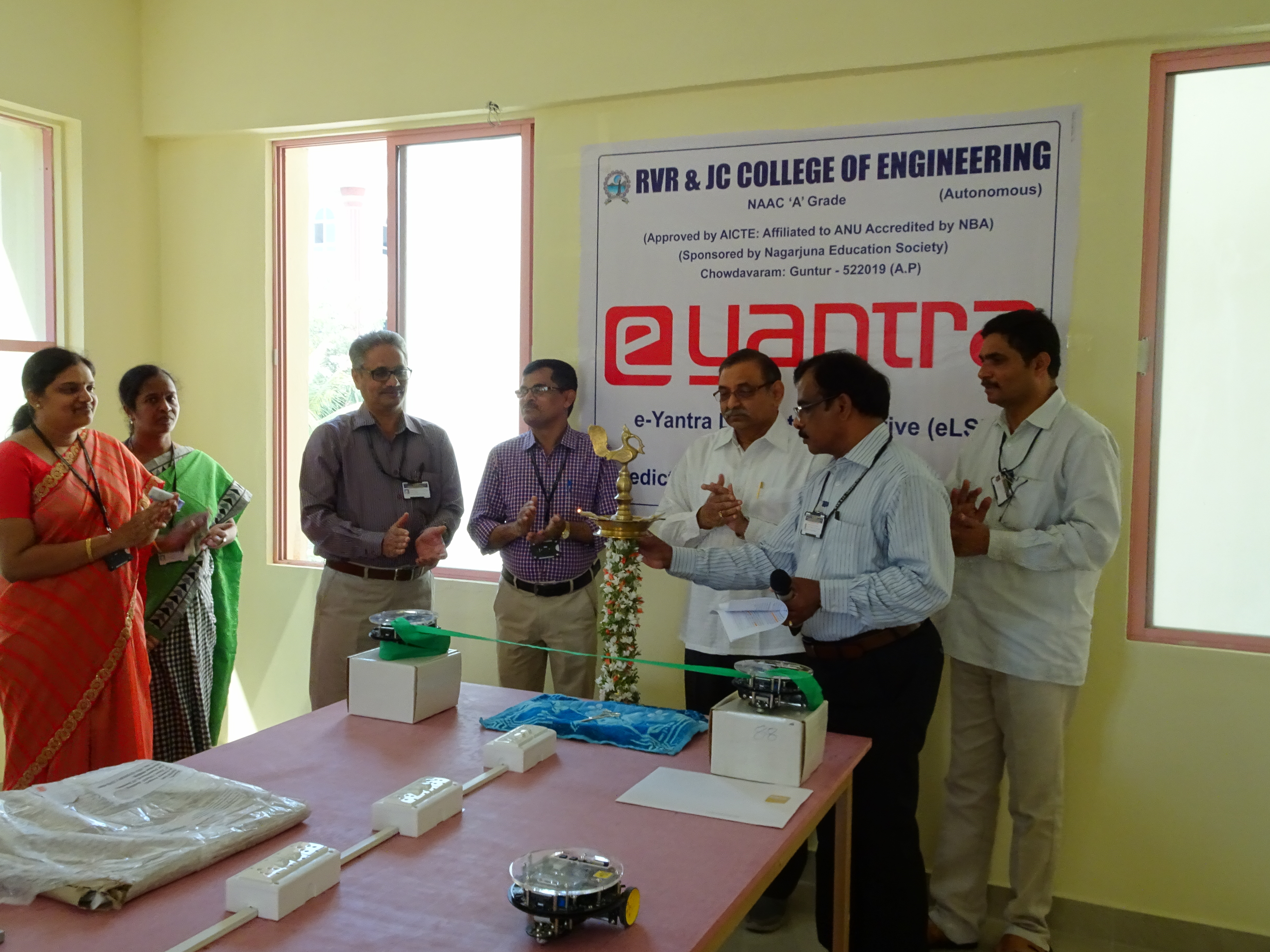 Robotics Club
The Robotics Club was initiated on 13th April 2018 under the Mechanical Engineering Department.
The Faculty coordinators are
Dr. K. Ravindra. (Mechanical Engineering, Head of the Department)
Dr. N. Naga Malleswara Rao. (Information Technology)
Dr. R. Sreenivasulu. (Mechanical Engineering)
Dr. C. Tara Sasanka. (Mechanical Engineering)
Student organizers are
G. Kundan Sai Datta Prasad (Y17ME063)
V. Krishna Teja (Y17ME167)
G. Raghava Rao (Y17ME054)
Student coordinators are
N. Badari Sai Surya Teja (Y15ME903)
M. Bhargav (Y15ME980)
B. Revanth Kumar (Y15EE816)
The members of the Robotics club are
| | | |
| --- | --- | --- |
| Sl. No. | Name | Student - Id |
| 1 | D. Raghava Babu | Y16CS823 |
| 2 | B. Sai Avinash | Y16EC810 |
| 3 | L. Chandana | Y16EC881 |
| 4 | Ch. V. S. N. S. L. A. Yesaswini | Y16EC824 |
| 5 | B. Anusha | Y16EC811 |
| 6 | G. Kundan Datta Prasad | Y17ME063 |
| 7 | V. Krishna Teja | Y17ME167 |
| 8 | G. Raghava Rao | Y17ME054 |
| 9 | N. Mohit Sai | Y17ME115 |
| 10 | V. Venkata Kishore | Y17ME171 |
| 11 | K. Mohana Hemanth | Y17ME106 |
| 12 | K. Aparna | Y17ME077 |
| 13 | G. Chihnita | Y17ME062 |
| 14 | P. Vijay Kanth | Y17ME120 |
| 15 | G. Naga Phani Sreevatsava | Y17IT035 |
| 16 | B. Krishna Sowmya | Y17IT009 |
| 17 | D. Salman | Y17IT025 |
| 18 | G. Adi Lakshmi | Y17IT038 |
| 19 | M. Leela Kali Manasai | Y17IT066 |
| 20 | T. Deepika | Y17IT104 |
| 21 | P. Durga Bhavani | Y17EC129 |
| 22 | K. Prasad | Y17EC067 |
| 23 | Ch. Ajay Kumar | Y17EC025 |
| 24 | A. Varun Kumar | L18EE182 |
The list of events we participated in is
Phototron
Conducted by Techniche at IIT Guwahati.
Prize won - 1st prize.
Cash Prize - Rs. 15000/-

Mobile Controlled Robotics
Conducted by Technozion at NIT Warangal
Prize won - 2nd Prize
Cash Prize - Rs. 4000/-

Line Follower
Conducted by Technozion at NIT Warangal

Jahaaz
Conducted by Technozion at NIT Warangal
Copter Valor
Conducted by Technozion at NIT Warangal

Photos
Videos
List of Equipment in Robotics Lab
| | |
| --- | --- |
| Sl. No. | Description |
| 1 | FireBird V 2560 |
| 2 | Spark V Robot |
| 3 | Fire Bird V P89V51RD2 adapter card |
| 4 | Fire Bird V LPC2148 adapter card |
| 5 | ZigBee Modules 100m range |
| 6 | ZigBee Modules adapter |
| 7 | Metal-gear servo Motors |
| 8 | Servo Motor based Gripper Kit for the Fire Bird V Robot |
| 9 | Sharp GP2Y0A21YK0F infrared range sensor (10 cm to 80 cm) |
| 10 | Shipping Charges |