Smt. T.Pushpa Jyothi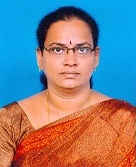 Designation: Assistant Professor

Date of Birth:18-05-76
Date of Joining:09-09-09
Research Interests: Network Security, Data Mining

Qualifications:
M.Tech, JNTU Affiliated College, Kakinada, Andhra Pradesh, India
B.E, Anna University Affiliated College, CHennai, TamilNadu, India.

Membership in Scientific and Professional Societies:

Life Member of ISTE
Life Member of IAENG
Seminars/Workshops attended/organized:
Presented a paper entitled "A novel approach for generation of electronic power using PV cells and storage" organized by the department of chemical engineering, RVR&JC college of Engineering, Guntur during 21st and 22nd June 2013.
National Workshop on "Big Data Analysis", 17th & 18th April 2013, Organized by Dept. of CSE, RVR & JC College of Engineering, Chowdavaram, Guntur - 522019.
Teaching Experience:
5 years
Contact Details:
EMail:
tpj @ rvrjcce.ac.in
Phones:
+91 8632288254 Ext: 322